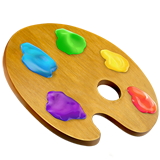 ARRTIST
Website Templates for Creative Professionals
Why mess with site templates that weren't built for you?

Now there's a better way...
and it doesn't cost a fortune.

Save time and money while looking professional on your brand new website!
More Templates Coming Soon...
Step 1: Get a carrd account
These templates are built specifically for Carrd.

Sign up for an account for the easiest website builder.

You can upgrade now or later, but you'll need a Pro Standard account (only $19 per year!) in order to use your own domain (yourname.com).
Step 2: Buy a Template
Click the buy button on any template to get access, it will be added to your account
Step 3: Customize Your Site
Replace images, change text, swap fonts and styles.

Make it your own!

Here's a video that shows you how to use the Carrd builder... [coming soon]
There are a few other things you might want for your website:
Domain Name
Having yourname.com makes it easy to share your website, and is more professional than mysite.sitebuilder.com.

If your name is taken, try a different extension like .net, .tv, or .net. Or iamfirstnamelastname.com. Be creative! Just make sure it's easy to say and spell.

I recommend registering yours at NAMECHEAP.
Analytics
For a small personal site, analytics are NOT required. Keeping track of the 2 visits you get per day to your portfolio won't help you get more gigs.

But if you're running a crowdfunding or other campaign to a project website, it can be helpful to know how your promo and advertising efforts are working.

For a simple to use, privacy-friendly analytics platform, I recommend FATHOM.
Payments & Donations
Text
Email Newsletter
Text
Career & Marketing Tips
If you're an actor, check out Working Actor to learn how to best use your site and promote yourself.
Who are You?
I'm Gedaly, I'm an actor, screenwriter, and director. I've made & marketed movies, started a few businesses, and helped big companies with online marketing.

I'm also a recovering web designer.

I've been building websites for over 20 years. I've done small websites for artists and freelancers for hundreds of dollars, and I've helped big companies build sites that cost tens of thousands of dollars.

For small personal artist sites I keep telling friends NOT to hire me... there are now easy and cheap site builders out there.

But most templates are for e-commerce, apps, and startups. I wanted to make sure that my artistic friends had a website starting place that reflected their career.
Why Carrd?
It's extraordinarily flexible.It's easy to use & learn.It's really inexpensive! Other site builders could cost you $70 - $300 per year! Carrd is under $20 for a year.It's made by a tiny team who cares about making good stuff, not a mega-corporation trying to take over the world.Great customer support.
Can I Request a Template?
Yes!

If you are a creative and don't see your type of work reflected in the available templates, please get in touch.

Include some sample websites for others who do what you do, if possible. That'd be super helpful!

If the templates available are close to what you want but have the wrong font/color/etc, remember that they can be fully customized! These are just a starting point for you.
Can You Build My Site For Me?
If you're worried about not being tech savvy enough, I promise you can handle this. It may require some time, but it's as easy as a word document. I believe in you!

If you want a totally custom designed site, shoot me a message.
Can I Use These on Squarespace/Wix/WordPress?
Short answer: No.

These templates are built specifically for Carrd. Those other site builders have their own set of templates and features, I chose Carrd specifically because it's so affordable, user friendly, and customizable.
Can I Use The Template On Multiple Sites?
For personal use on the same Carrd account, yes.

One of the great things about Carrd is that you can have multiple sites on the same account. If you feel like re-using the template, you're free to do so!

If you plan to use it to build a site for someone else on another Carrd account, please purchase it again using that account. Thanks!
Have a question about a template?
Want to request a template for what you do?
Need other website-related help?

Shoot me a message!